Marble tile prospects are bullish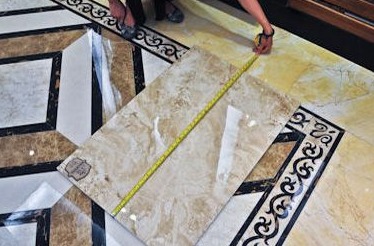 Tiles as a space decoration material, its appearance is to replace the stone, and the appearance of marble tiles, with its realistic effects and more superior performance of marble, so that the decorative effect of tiles to a higher level. And, compared with natural marble, marble tiles are more environmentally friendly and cost-effective.
It is also because marble tiles have many advantages. More and more residential, commercial real estate projects, municipal projects, and hotels have begun to use marble tiles in large areas. This has also led many ceramic enterprises to pay more attention to marble tiles and gradually strengthen them. Marble tile production and sales.
According to Dai Xuangui, at present, marble tile products account for more than 60% of the entire Marco Polo tile product line; and each year newly developed products, marble tile products account for 60% of new development products, a total of more than 30 models, including more than 10 The money has a good performance in the market.
Aoxiang Ceramics also strengthened the production and sales of marble tiles this year. According to Lu Memorial, in the first half of this year, the sales of ceramic ceramic tiles in Australia and Xiang have increased by 110% year-on-year, and a new full glaze production line has been added, mainly producing marble tiles. In the second half of this year, another production line will be added.
In fact, Marco Polo and Aoxiang strengthen the production and sales of marble tiles is just a microcosm of the industry, more and more companies are joining them, and increase the proportion of marble tiles in the enterprise product system.
According to Lu Memorial, marble tiles have a wide range of applications, they can be used under the wall, they can be cut and used, and their decorative performance is very strong. This is an important factor for many ceramic enterprises to look at marble tiles.
Not only that, marble tiles have the natural effect of natural stone, health and environmental protection, lower prices and other advantages, but also many consumers valued. Deng Yilun said that marble tiles can achieve the same decorative effect as natural stone, not only reflecting the high-end style of life, but also relative to the price of stone, but also make it more affordable for consumers, in line with 80,90 after emerging consumer groups Consumer demand, thus destined to its appearance will appear in the various building materials market, becoming the mainstream product of terminal decoration.
Air Insulation Fastening Tool,Air Nailer,Air Insulation Fasteners,Air Insulation Tool
Yibin Heheng Technology Co.,Ltd , http://www.chinadirectfastening.com